You will find thousands of the highest quality brass base metal findings and stampings made in the USA and Europe when you shop with us. Our plating company is the same one used by Nordstrom, Chicos, and many other high end clients. They apply our beautiful antique finishes in oxidized sterling silver, brass and copper. (OX is the industry abbreviation for Oxidized.) Nickel and lead are not used in our plating process.
Our inventory also includes beautiful vintage glass jewelry stones and beads as well as other items to create many projects in addition to jewelry making.
Our History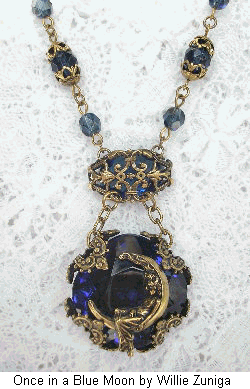 In 1989, Susan started designing jewelry as a hobby which grew into an all-consuming passion. Since then, her work has been sold in the best boutiques and department stores in the world, worn in Miss America pageants, in Broadway plays, on runways, featured in books, magazines and many other things that would make a designer proud, but her greatest joy comes from the wonderful lifelong friends she's made through her craft.
Susan is self taught, so she spent many long days doing research and traveling to locate sources, platers and importers to bring her collection together. Her search often ended with having mold makers create dies, carbon boards and castings for her since she couldn't find what she wanted in the industry. Today Susan consults with many major manufacturers on their own product development and designs. She rarely gets the opportunity to create jewelry.
Even after all these years, we still gets excited when we discover a new filigree or bead cap to offer you. We take great pride in carefully packing your orders and getting them out to you as quickly as possible. We package thousands of items for shipping each day, which makes our eyes glaze over after seven or eight hours. If we ever make a mistake on your order please send us an email and we'll correct the problem right away or give you a refund. Send an email to Regina@VintageJewelrySupplies.com to report your problem.
Susan tells us, "I've never met my friend Willie Zuniga in person, but she has become one of the dearest people in my life. She so graciously allows me to use some of the pictures of her beautiful jewelry to help you visualize how you might use some of the pieces I offer. A few years ago carpal tunnel syndrome and arthritis took away the dexterity in my hands, so I'm especially grateful to Willie for sharing her beautiful design examples with us."
Willie is kind enough to share some of her techniques with you here on the site so that you can use the knowledge to make designs of your own. Her copyrighted designs are shown for learning purposes only and should not be copied for resale, either whole or in part.
We are so grateful to all the artists who have contributed the images shown here and in the ads for items on the sites. We hope that when you see the pieces in use, your imagination will take it from there.
When we started selling on eBay in 2000 under the name 'AccessoriesSusan', we were one of the first companies to offer jewelry components for sale on the web. After selling millions of items on eBay and other auction sites, we now sell exclusively from our own web sites. We are not affiliated with any other seller(s) or web site(s). We do not own any "ghost" web sites pretending to be authorized dealers of our products in order to charge you higher prices for the items we sell. We offer the same prices and free shipping to everyone who shops with us, because that's what is honest and fair.
We now have more than 25,000 registered clients and more than 5,300 unique items. We formed a private corporation as of January 1, 2011. All of you made this fantastic growth possible. We are so very grateful for you. Thank you!
We always strive to give you the best products and service possible. It is an honor to have you as our customer. If there is ever a problem with your order, please let us know in an email and we will correct it right away or give you a full refund.
From all of us at Vintage Jewelry Supplies Company, Inc.
You may reach Regina by email: Regina@VintageJewelrySupplies.com
Visit our store web site VintageJewelrySupplies.com to shop for these and thousands more items.
(NOTE: our website best viewed on desktop or tablet) and the
Vintage Jewelry Supplies Co., Inc. are privately owned by Regina Jilton.