I believe we are here to bring joy to the lives of others and in so doing, that joy will be returned to you many times over. I received the special letter below several years ago but I'm always inspired to start the day with a positive attitude each time I read it. This lady is a testament to the strength and good in all of us. I applaud her and others like her who give so much of themselves when it would be so easy to just give up.

Susan Street
Dear Susan,
I hope you don't mind my taking a few minutes to tell you how much your lovely products have affected my life, as well as the lives of others.
I am a 54-year-old widow, a mom and a grandma, and am currently fighting my third battle with cancer. My treatments are tough, I spend many days in bed, literally, as well as two full days a week at the cancer center. I don't know how I could ever get through this without my jewelry-making hobby, but even more, I am especially grateful that I found your website. Your wonderful assortment of antique, Victorian-style products has opened up a whole new world for me at a time when I needed it most.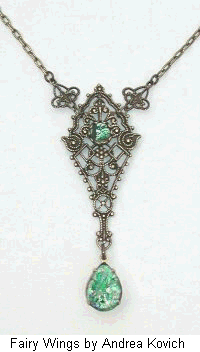 I started bringing my jewelry supplies with me to the hospital, and would work on a project while I received my day-long treatments. Some of the other patients became interested in what I was doing, one thing led to another, and we now have a little group of jewelry-makers, all in various stages of chemo and radiation. Most of us haven't a hair on our heads … but oh! are we pretty … all decked out with our lovely creations made from your amazing products!
The nurses, and doctors too, are so enthusiastic about the good effects this has had on us that they schedule our treatments together whenever possible … and deliberately put new patients in with us in the hope that they might enjoy this distraction as well.
I just can't tell you what a difference it has made for us! It's a hard time, of course, but having this outlet, something so beautiful to focus on, makes everything change. We actually enjoy ourselves, we share and admire and laugh, and have become close friends during this process.
Anyway … I wanted to thank you, because your website, with it's photos, helpful notes, and exquisite products, has really made it possible for me to share my hobby with others. I am not a real experienced jewelry-maker, but I have never seen such a beautiful, unusual selection of things to work with.
I hope I haven't gone on too long here, but I wanted you to know of the part that you've played in the lives of others. You've allowed us to change what would have ordinarily been a very bleak time in our lives.