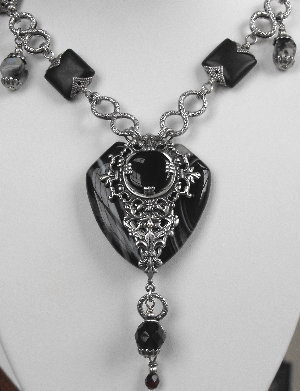 In this design example, I will show you one way to use a gemstone pendant bead which might not be perfectly drilled or evenly cut. This happens quite often when using a natural element of any type. Shell cabochons, gemstones or handmade glass stones are not always perfectly even or smooth, but I always try to make use of them. 


When I bought this black agate druzy geode pendant bead, it looked good in the poor lighting of the bead show. However, as I started to work with it in better lighting, I discovered that the hole was lopsided making the pendant hang at an odd angle. Usher in plan B.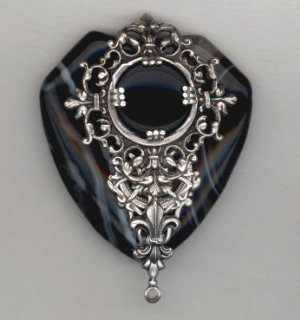 When the holes are not drilled properly in an otherwise beautiful gemstone, the layering technique can be employed to salvage the stone. Here I covered the hole completely with other elements. I will use the openings at the top of the ornate setting to attach jump rings and the bead strands.
The items I've added to the front of the stone look balanced but the back of the stone shows the odd angle of the hole which has been hidden by the small triangle.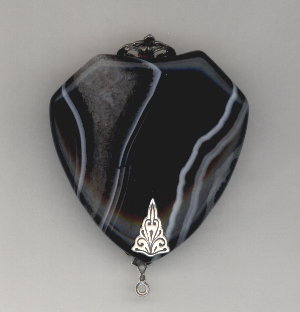 Bead caps #E36 are domed squares but I formed them to fit the flat square beads as shown in the image below.
I used #W288 as a connector to hang a drop from but also back to back as if they were links of chain. Using double jump rings adds the appropriate weight to the linkage.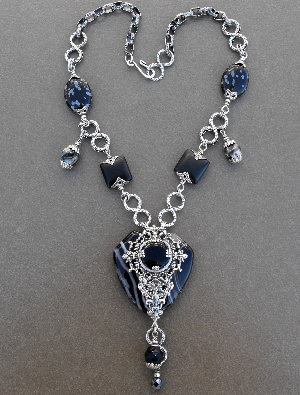 Visit our store web site VintageJewelrySupplies.com to shop for these and thousands more items.
(NOTE: our website best viewed on desktop or tablet)