Have you ever thought about why you tend to wear your favorite pair of earrings with so many different looks? Earrings and necklaces can light up your face and make you look thinner.
A few years ago, I was a guest on a TV show in Virginia. The interviewer asked me, with doubt in his voice, how I could possibly make a woman look ten pounds thinner instantly. With the help of the female co-host of the show it was easy to demonstrate. I had already staged for her to be wearing small round button earrings and a choker style necklace with yet another round shaped pendant hanging from it. Her sleeves were long and her collar was flat… so was her hair. First I lifted the crown of her hair just a bit, flipped up her collar, took off all that round jewelry and replaced it with small dangle earrings in a more rectangle shape and a longer beaded style necklace with a triangle shaped pendant. Next she pushed up her sleeves to just below her elbows. She slipped off her flat shoes and into a pair of low heeled pumps in a color that blended with her slacks. It was amazing how much taller and thinner she instantly looked after such small changes.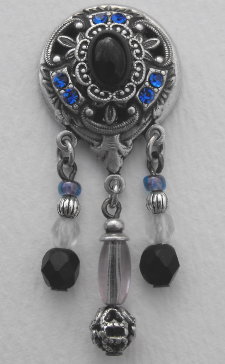 When I was designing full time, I would often stop by boutiques in my area to pick up special orders. Customers wanted jewelry to match every outfit they bought. I know… too matchy-matchy for most women now, but the look is still much more polished if the style is flattering to the wearer and complements the clothing.
This pair of earrings sold for $90.00.
Those little single strand earrings hanging on a lever back or simple hook sure are fun and easy to make, but let's be honest… they look best on younger women. If you've been wearing heavy earrings most of your life, your earlobes may look a little different than they did twenty years ago. For myself I always make a button style pierced earring which covers most of my lower earlobe and I add short tiny dangles.
This style of earring is very easily converted to clip backs, even while you are doing a show.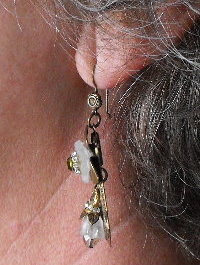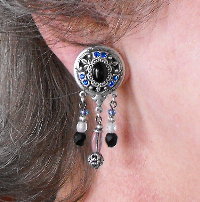 They should have a width of about 22mm and length of not more than about 45mm for daytime. For evening or special occasions you can go a bit beyond those dimensions. The look of an ear wire in a sagging earlobe with a stretched piercing is very aging. It isn't a good look for anyone! If you sell to high end boutiques or anyone over the age of forty, I promise you that your customers are looking for the type of earring shown here in every color combination you can come up with.
Tips for making great earrings for all your customers.
Use a base which measures about 22mm wide. For example an 18mm wide circle or square would be perfect. For this one I used #T42 and nipped off the loop.

Place the post (#A10) in the upper third and center of the back of the base so that the earring sits flat on the earlobe. Use an earring clutch with an attached round plastic disc (#K19) to give additional support to the earring.
Layer onto the base using color, texture and dimension. Flat is ok, but adding layers of small cabochons and beads will add much more interest and texture. Add small dangles in un-even numbers and remember to repeat the same texture in the strands. (One long and two short is a great combination.) I used filigree bead #A597 to tie in the texture of top detail. The total length of the earrings should be about 45mm.

I clipped #A615 off at the line and bent it downward a bit to fit nicely onto #T42. That gave me the three loop spacing I needed. I also clipped off the loops from #A369 or you can use #B138.

The shape of oval or rectangle is more flattering than round. Several round objects grouped together in a line is more flattering than one large round object. Think in terms of earrings made from one large round cab or button worn with a round face. That's just too many round shapes in one place. If you wore earrings with three small circles linked together vertically, the effect would be totally different and much more pleasing.

The size of the earrings should not exceed the size of your ear. Remember, scale and balance are very important elements in any type of design.
Visit our store web site VintageJewelrySupplies.com to shop for these and thousands more items.
(NOTE: our website best viewed on desktop or tablet)