The classic style of mixed metal jewelry will allow you to wear the items for years to come and with a variety of looks. These earrings are from my personal collection of items I've made and kept to wear. I'm showing them to you for several reasons.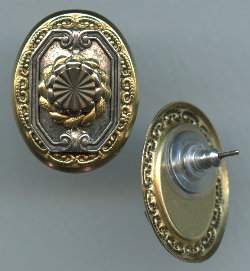 I made these earrings in about 1991. I've worn them hundreds of times and I still reach for them at least once a week.
Note how the plating has not changed even after all this time. I combined antique gold, oxidized brass and antique silver in layers with no stones included. Also note the placement of the earring posts near the top third of the settings and the use of backs with stabilizer discs. This allows the earring to stay in place without tilting forward.
When you create classic style jewelry from quality components you will be able to enjoy it for many years with proper storage and care. I don't ever sleep, swim or bath in any of my jewelry. If I get lotion, make-up etc. on it, I just wipe it off with a soft cloth.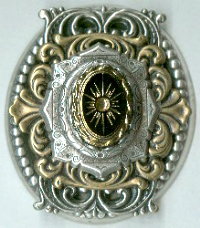 The mixed metals geometric pin in the photo below was created with the pieces numbered for you in the next photo. Using this basic layering concept or pattern of design allows you to create countless styles of jewelry or focal point pieces which can be used in many other projects.
The loops on the settings were easily nipped off using small wire cutters. You can use a small file or emery board to smooth any rough edges when you cut off a loop.
E6000 glue was used as an adhesive.
Visit our store web site VintageJewelrySupplies.com to shop for these and thousands more items.
(NOTE: our website best viewed on desktop or tablet)