The brass stampings, beads and gem replicas we offer are used in many projects other than jewelry design. Here are just a few great ideas worth sharing.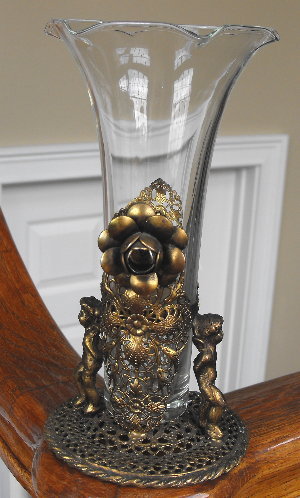 The beautiful bud vase pictured here was a gift from my sister and her husband. It includes several filigrees, a flower and two cherubs. They are soldered to a large round filigree and a plain brass band to hold it all together. The band doesn't show, but it is inside the design at the heads of the cherubs. The vase can be removed from the ornate holder for cleaning.
The same concept could easily be used to make decorated jar candles or bud vases of your own design.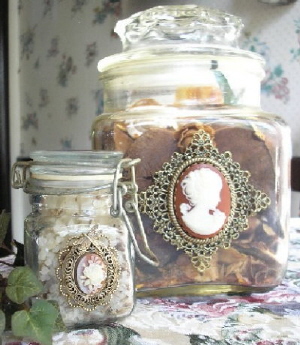 Willie Zuniga is still recovering from hand surgery but she can't sit still. She is creating a line of gift items now. You can buy these jars at most craft stores. She filled the small one with bath salts, and the larger one with potpourri. Great new ideas for our jewelry components!
Large filigrees were added to #A10 post earring backs to create unique push pins for an ornately framed bulletin board.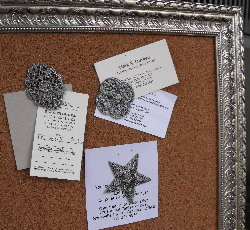 You could also use filigrees or stampings to create refrigerator magnets, to make stencils or decorations for scrapbooks, as embellishments for picture frames, lamp shades, trinket boxes… the list is endless!
Willie Zuniga created this fabulous birdhouse decorated with lots of beads, chain and all kinds of stamping designs.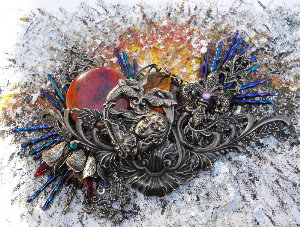 This collage was created for a magazine article.
I added texture to watercolor paper, painted an abstract sunset in acrylic, added a large gemstone bead, glass beads and lots of brass stampings. Then I framed it in a shadowbox to keep out dust.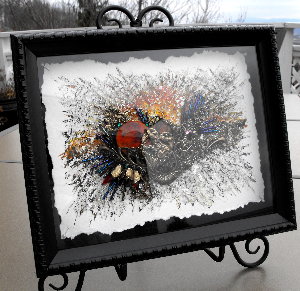 Our shopping web site is VintageJewelrySupplies.com