Plating makes all the difference. Many suppliers attempt to convince you that raw brass items are acceptable for use in jewelry making projects.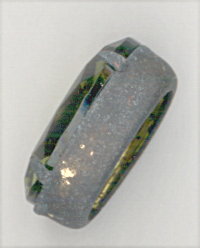 Brass is a metal alloy, composed of a solid solution of zinc, dissolved into an element of copper. Raw brass, natural brass, pure brass; whatever the term used, has sharp uneven edges from the stamping process which creates the design. It will stain your skin and sometimes your clothes greenish black. Also keep in mind that it will darken to a very unattractive color as it is exposed over time to air and your skin oils. This photo shows you how raw brass ages over time.
Raw brass is a wonderful light weight base, but it should be professionally plated to have the look and feel desirable for jewelry. It is very expensive to have plating done so of course any seller would be thrilled to bypass this important step to sell you raw brass items at premium prices.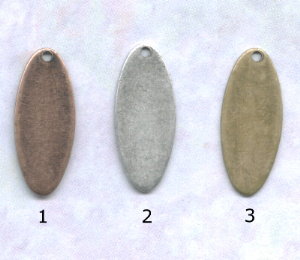 Understanding the terminology of plating finishes will save you time and money. The picture above shows you examples of some of the colors we offer.
1. Oxidized Copper or Copper OX items have been plated to a muted rich copper and then oxidized to appear old.

2. Oxidized Sterling Silver or Silver OX items have been plated in sterling silver and then oxidized to make them look old. This finish is much more expensive to have done than most of the silver color platings you will often find. The cost of is based upon the silver market prices at the time. That is why the cost of our sterling silver plated items is higher.

3. Oxidized Brass or Brass OX items have been plated to a smooth brass finish over raw brass and then oxidized to appear old.
Professionally plated items have a tough lacquer protective finish applied to them so that your work of art will stay just the way it is for years to come.

I don't recommend trying to solder or alter the finishes with chemicals of any kind. I do recommend using a hand held punch tool like the one we offer on the site or if you want to make different sizes of holes there is a larger one made by Roper Whitney Co (No 5 Jr Hand Punch). The 1.5mm bit is sold separately but there are several which come with the kit.

Our products are in compliance with California's Lead-Containing Jewelry Law. Please note that the lead of concern is the type used in painting of or adding weight to cast costume jewelry. There is no lead in our jewelry grade brass nor is there any used in the plating process of the items you buy here. All our items are also nickel free unless otherwise noted in the description and or title.

Most of the items we offer are representative of the Victorian or Renaissance eras and perfect for vintage style jewelry, so a bright shiny finish would not be appropriate. That is why you will find so many rich antique finishes on the component parts we offer. The antique finish greatly enhances the details of these pieces but it also allows you to manipulate them with little or no plating "pop" when you do.
Willie Zuniga often shares such good information with me that I ask her to allow me to use it here on this site. One of her recent very informative emails addressed the brass stampings knock-off market. Since I have had no occasion to test these inferior products, I'm glad that she takes the time to share this information with us.

Have you ever had a potential customer concerned over the possibility of a jewel falling out of a filigree-wrapped design.  If so they might have purchased something from another seller and had this happen.  A little research pin-points the problem … the seller was using those cheaply plated thin white metal or steel replicas coming from abroad.

As a new designer you should be educated about this.  Both Etsy and eBay have a flood of sellers with filigrees and stampings that look similar to their brass counterparts, but they're plated steel, white metal or some other unknown substance. They are very thin and very inferior products. 

They are usually priced really low, one-third or fourth the cost of the brass components made in the United States. With the superior plating applied here in the US, plated steel makes an excellent and very strong chain.  It does not make pliable filigrees and stampings because it's so much harder than brass. The products must be stamped from super-thin sheets of steel, which makes them fragile and brittle. Without a superior plating, they will rust within a few months.  

Many inexperienced designers are lured by the low prices, and are using these products, right along with the beautiful glass jewels and stones we love.  They may create a beautifully finished product to begin with, but they will have a very unhappy customer in a short time. If the steel doesn't break because it's been manipulated, it will definitely rust through the thin plating, sometimes in less than a year. Improperly plated items such as tiny steel components like jump rings, spacers and bead caps will rust through and ruin a lovely creation.

Willie offers her jewelry as "heirloom quality," and feels that her customers should expect that it will last a lifetime and more.  She writes, "With brass, I can make that promise. I do occasionally use other metals, but only when purchased from a reputable supplier who knows the value of a superior plating process."
Visit our store web site VintageJewelrySupplies.com to shop for these and thousands more items.
(NOTE: our website best viewed on desktop or tablet)