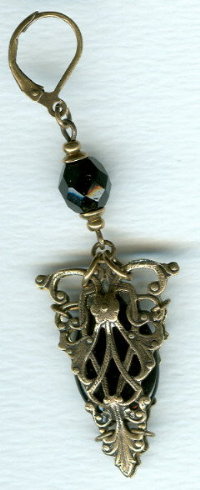 This earring design was created using only jump rings to sandwich a buff top oval cabochon between two filigree triangles.
I used the jet oval buff top cabochon #T38 with different sizes of jump rings to join the two filigrees around the stone. All items used to make the earrings are shown with their numbers in the second photo.
(Note: #T8 is now item #T08)
This is also a great little filigree to use as a fancy prong effect layered in collage jewelry. Keep scrolling for more ideas!
I used this filigree triangle as the "setting" edges when I embellished the medallion pictured below in detail and also in a full view. It was easily molded to the sides of the stone which was first set into a plain setting. The secret to unique designs is layering. With your vision and several different pieces layered together and molded into a new design, each piece you create can be your own unique concept.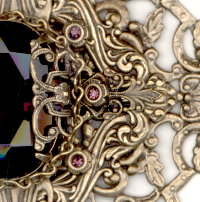 The photo to the right is a detail showing you the filigree triangle used inverted so that the wide end is actually used as the prong effect but it works beautifully with the pointed end used to create the dramatic "prongs" on large stones.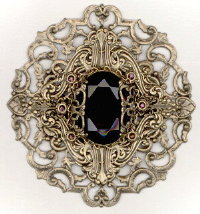 Full view of the medallion.

It now rests on a stack of antique books on a small table near a door. No one has ever walked by it who didn't stop to examine it and ask questions.

Visit our store web site VintageJewelrySupplies.com to shop for these and thousands more items.
(NOTE: our website best viewed on desktop or tablet)