A unique bail can make all the difference in the look of your finished project. Here are some ideas to help you create unique bails from which to hang your pendants. Try folding over a connector which is the correct size and shape then add a jump ring as in item A.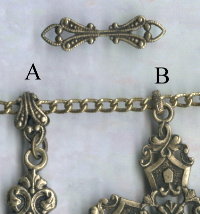 You can also use one link of rollo chain as in item B in the first photo. Any unsoldered larger link chain which has the right size and shape links can be used as a bail.
In this photo you see a bail made from our long bar filigree #B33.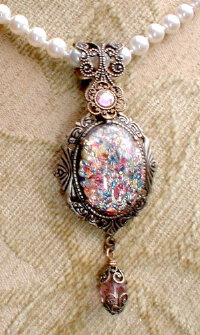 This technique combines settings of various sizes with the rings either nipped off or turned downward so that you can attach other items.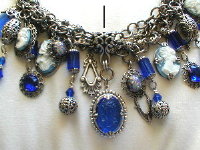 You can also use any of our ring findings as a bail as shown in the photo below.
(A black line shows you where the ring finding was used as a bail since thats a really busy necklace.)
More Bail Options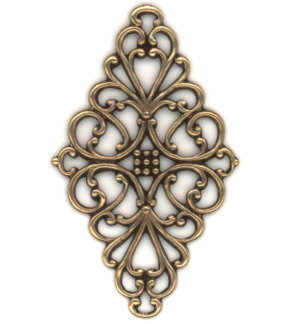 Fold and roll item #A736 (first image) over into a triangle shaped bail to fit the chain you've chosen. This great connector filigree has loops on all it's edges so you can still use it as a connector for strands, beads or a pendant.
In the completed necklace shown below, I used #A736 as the bail, various bead caps were used with vintage glass beads, the pendant stone is a brown jasper rectangle bead.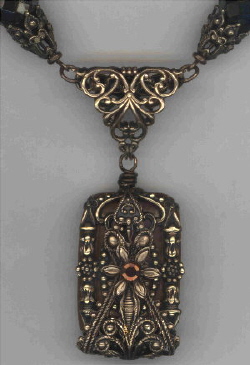 Layered to encase the jasper bead are our items #C26, #A189, #A156X and a smoked topaz Swarovski flat back stone.
You could also nest a fan shaped or half round stone inside the folded piece to use it as a connector rather than a bail.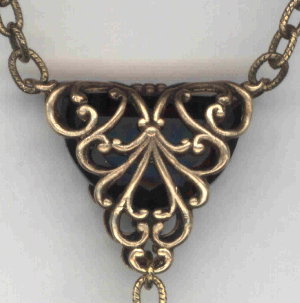 The third photo shows an example of this bejeweled connector with a half round smoked topaz vintage glass stone inside the fold. I've attached chain only so that you can see an example.
Here's another idea for you to try….
I used all these parts along with #T196 bail or Round Nose Jewelry Pliers to form this bail mounting shown in the image below. It has been added to our neck ring #BNR1 which can easily be shaped to fit your neck as you wish.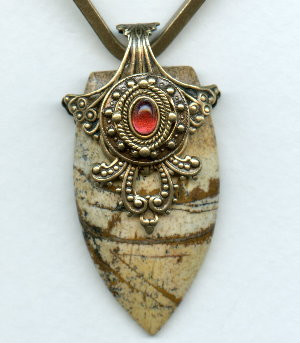 We may earn a small commission if you make a purchase from 3rd party links above at no additional cost to you.
Visit our store web site VintageJewelrySupplies.com to shop for these and thousands more items.
(NOTE: our website best viewed on desktop or tablet)