May I use PayPal to pay for my purchases?
We are happy to accept PayPal!
Do you have a paper catalog?
Since our inventory changes daily we may never have a print catalog. You can always see all of the inventory we have to offer at our store web site.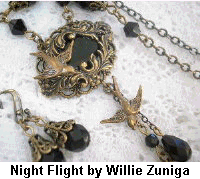 New items are constantly being added and vintage items are in limited supply, so a print catalog would not be feasible.
Do you wholesale?
We try to be very fair with our pricing and yet make enough profit to remain in business. The lowest price we can afford is always listed to start with. We already work ten hour days so it would take even longer to figure out discounts for the hundreds of orders we get each day if we marked things up and then cut our prices according to volume orders. It would actually drive up the cost of all of our items quite a bit so for now we will continue to offer only the lowest price we can afford to start with.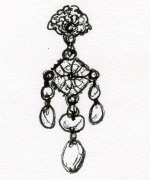 Where do you get your ideas?
Sometimes the inspiration comes from an intricate filigree
or the color of an unusual stone. The next step is to plan supporting characters for the "the star item". Sketches have always helped me to formulate a general plan for my designs. From the time I was old enough to hold a pencil, I've been drawing, writing, sketching and dreaming on paper. As a jewelry designer, this was a very useful skill to help me remember or figure out how to make details details work together.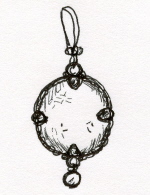 I always look at jewelry, be it in a museum, a book,
on the necks of strangers or in a boutique, I am like a moth to the flame. I must study it. I have no desire to copy something that has already been done but, I can be inspired by the shape, the use of color, the drape of chain, the combination of shapes and will often make a very rough sketch of something I like. I will use that sketch as reference when I start my design. From that basic idea my design will more than likely progress into something totally different. But that is how creativity works. Go with the flow of ideas and the supplies you have available.
May I purchase items by the gross?
We will provide you with large quantities of most of these items but the lowest price I can offer is already listed. There is a small turn around time if items need to be plated to your specifications and 50% of the total is due at the time you order.
Where do you find all this stuff?
Since 1989 I have been buying components from more than thirty manufacturers and importers of the finest jewelry items in the world. Many of the items I offer were tooled from dies created in the 1800s. Some of those companies are being run by the third generation of the families who brought their designs over from Italy, Germany and France.
What is OX?
The most popular finish for the Victorian style items we offer is oxidized brass. This means that the raw brass components are plated with a rich aged brass patina, then an antique (Oxidized) finish is applied which has a wonderful vintage appearance. There is one last layer of non shiny protective finish which will allow the items to look great for years to come without turning skin "green".
What does AB mean?
AB stands for Aurora Borealis. This means the item is coated with a very thin metallic film which gives it an iridescent glow.
Who is Swarovski?
Swarovski is the name of an Austrian family who perfected the art of creating the finest jewelry crystals in the world.
What is a stamping?
When a tool and die mold is struck onto a sheet of brass the resulting (normally hollow backed) design is called a stamping. The parts I offer are the highest quality I have found. They are used mostly as components in jewelry design.

Molds from the late 1800s were used to create most of these parts exemplifying the great attention to detail of artisans from bygone days. This technique of stamping and plating brass has been passed down for several generations and is an excellent way to produce a product with intricate details yet it remains very light weight and durable.
Visit our store web site VintageJewelrySupplies.com to shop for these and thousands more items.
(NOTE: our website best viewed on desktop or tablet)